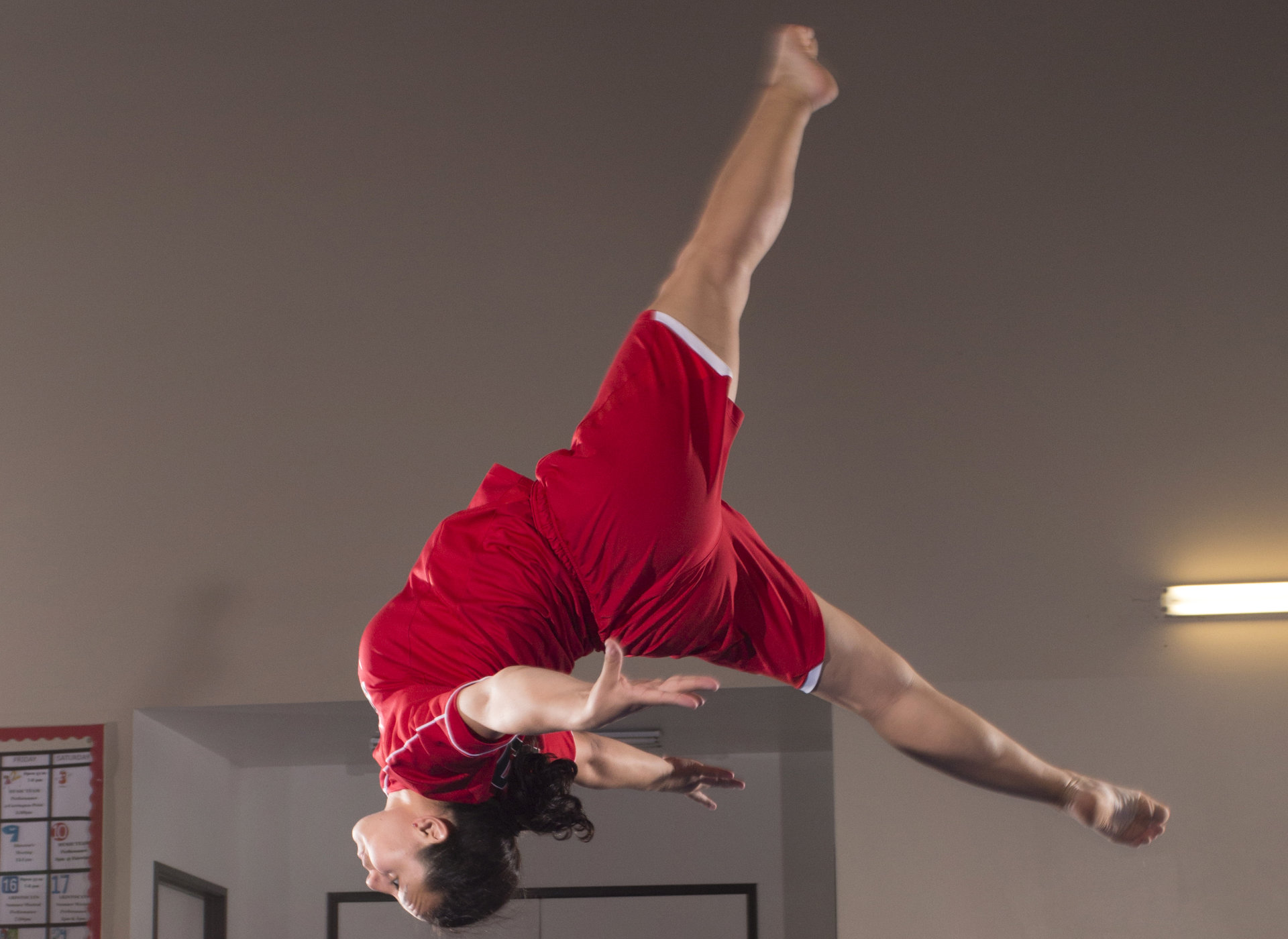 Tumbling
Play / Pause Video Background
At Break the Barriers, we pride ourselves in the quality of our gymnastics tumbling program for people of all abilities.
All classes are taught by accomplished gymnasts who are experts in teaching gymnastics technique, spotting, and building students' self-esteem. Tumbling classes are for tumbling skills on the floor only, without any other apparatus. If you have questions about the Tumbling program, please contact us!
Program Details
Fees are due at the time of registration. All fees are non refundable and no credit can be given.
To participate in our programs, first check with our office staff for class availability by calling (559) 432-6292, then fill out the Child Liability Waiver (for students under 18yrs) or the Adult Liability Waiver (for students 18yrs+). Once you have submitted the forms, contact the office to secure a space in class.
Doctor's Releases
Sometimes a doctor's release is required to participate if a student has specific physical or medical conditions such as (but not limited to) heart conditions, epilepsy, or bone and joint issues. Please contact us if you have questions about specific medical conditions.
*All students must have a skills evaluation prior to enrollment in a beginning tumbling or higher level class. Please contact Break the Barriers' office to schedule an evaluation.
To ensure a successful experience for all students at Break the Barriers, a student may be transferred to a class that is more beneficial to them at the discretion of the Director.
Basic Tumbling
Ages 6 & up
Forward roll
Start of a handstand
The focus is a mastery of foundational skills such as cartwheels, backbends, and round-offs
Beginning Tumbling
Ages 8 & up
Both right and left cartwheels
Round-off rebound
Good handstand
Push up backbend
Intermediate Tumbling
Ages 8 & up
No spot round-off back handspring
Working side aerial
Working front handspring
Working front tuck
Advanced Tumbling
Ages 8 & up
Round-off with 3 back handsprings
No spot side aerial
No spot front handspring
Most of standing back tuck
Most of punch front
Absolutely NO tummies showing (we suggest wearing a leotard or biketard underneath shorts and shirts)
No low-cut shirts (front or back)
No spaghetti straps (tank­-style shirts must have a minimum 1inch shoulder strap)
All shorts must have at least a 6 inch inseam (no high cut bottoms or short shorts)
No gum
Sweatpants okay during winter months
Must be barefoot or wearing a gymnastics shoe
Long hair must be tied back
Program Schedule
Program
Class
Age
Days & Times
Tumbling
Tumbling Evaluation
6 – 19
Please contact BTB office to schedule an evaluation
Tumbling
Basic Tumbling
6 – 19
Tuesday: 7:00-8:00pm
Wednesday: 4:00-5:00pm
Thursday: 7:00-8:00pm
Saturday: 12:00-1:00pm
Tumbling
Beginning Tumbling
8 – 19
Monday: 6:00-7:00pm
Monday: 7:00-8:00pm
Tuesday: 7:00-8:00pm
Wednesday: 5:00-6:00pm
Saturday: 12:00-1:00pm
Thursday: 6:00-7:00pm
Saturday: 12:00pm-1:00pm
Tumbling
Intermediate Tumbling
8 – 19
Monday: 7:00-8:00pm
Wednesday: 5:00-6:00pm
Wednesday: 7:00-8:00pm
Thursday: 7:00-8:00pm
Tumbling
Advanced Tumbling
8 – 19
Tuesday: 6:00-7:00pm
Tumbling
Cheer
7 – 18
Wednesday: 6:00-8:00pm
Upcoming Events
There are currently no events

Fidel gets so excited to go to Break the Barriers every week and it has really kept his spirits up during such a challenging year.

-Gymnastics Parent
Staff Training
We strive to prepare our staff to effectively work with and teach children of all abilities to be in a class with other students. All staff are required to attend workshops where they:
are trained in an ability awareness class with co-founder, Deby Hergenrader
are familiarized with ASD
learn how to use PECs, a structured schedule, social stories, and the Timed Timer
co-teach spectrum classes with a trained staff member
Thank you to our MAJOR sponsors