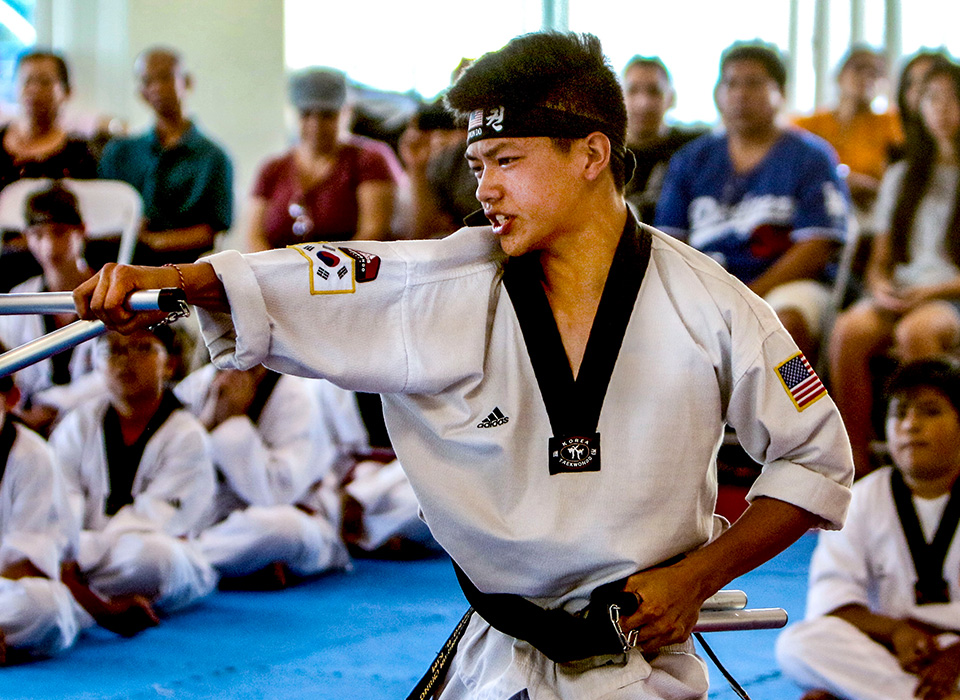 Martial Arts
Play / Pause Video Background
The martial arts program is a combination of fun, fitness, and discipline for people of all abilities!
We offer Taekwondo certified by the World Taekwondo Federation. Our Director, Lucky Lee-who is a 3rd degree black belt-oversees Break the Barriers martial arts program. Lucky is trained and supervised by Master Chang-II (Charles) Kim. Master Kim received his Hapkido 5th degree black belt from the Hawarangmooye Hapkido Federation in 1994. In 2019, he received his Taekwondo 6th degree black belt from Kukkiwon at the World Taekwondo Headquarters. If you have questions about the Martial Arts program, please contact us!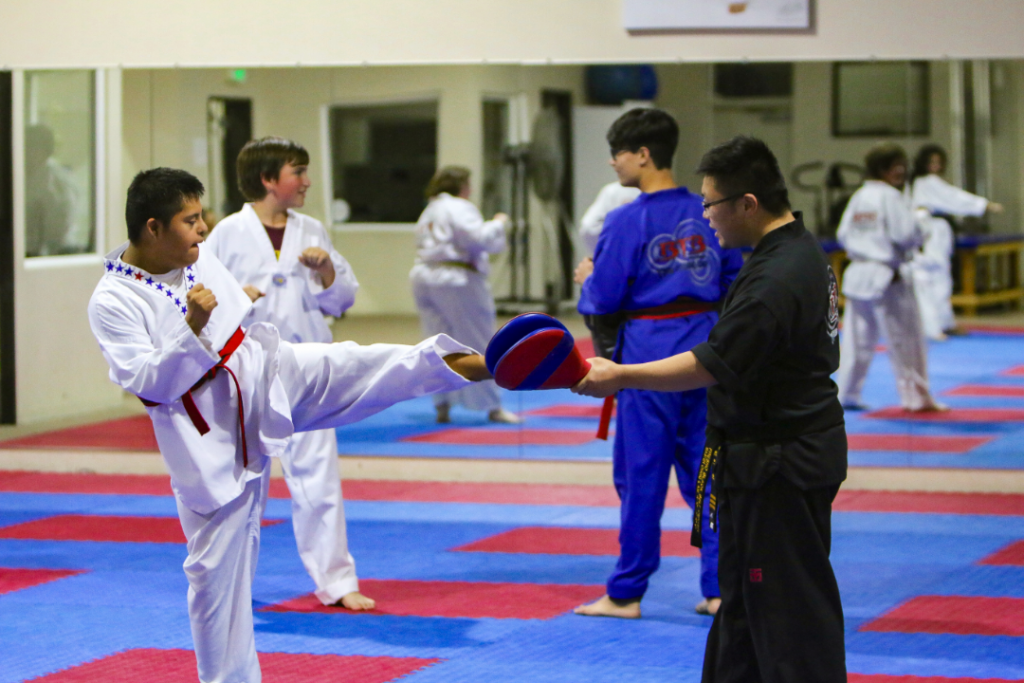 Program Details
Fees are due at the time of registration. All fees are non refundable and no credit can be given.
September 1st – December 21st

One class per week & Sparring: $330
Two classes per week & Sparring: $562.50
Lil Ninjas: $255
To participate in our programs, first check with our office staff for class availability by calling (559) 432-6292, then fill out the Child Liability Waiver (for students under 18yrs) or the Adult Liability Waiver (for students 18yrs+). Once you have submitted the form, contact the office to secure a space in class.
Doctor's Releases
Sometimes a doctor's release is required to participate if a student has specific physical or medical conditions such as (but not limited to) heart conditions, epilepsy, or bone and joint issues. Please contact us if you have questions about specific medical conditions.
We train students in Taekwondo and group them together according to their age and martial arts experience, not ability. Those who quickly master their skills progress to the next belt level; whereas students who need more time or adaptive equipment, receive the necessary attention required to master their skills. Students have the option to take classes two times a week and one weekly sparring class, or one class a week and one weekly sparring class. Belt testing will be held every two months. Sanctioned USA Tournaments will also be offered and are recommended for students.
To ensure a successful experience for all students at Break the Barriers, a student may be transferred to a class that is more beneficial to them at the discretion of the Director.
Level One – Beginner
White
Yellow Stripe
Yellow
Level Two – Intermediate
Green Stripe
Green
Blue Stripe
Level Three – Advanced
Black Belt Candidates
T-Shirt (for first time students)

No low-cut shirts (front or back)
No spaghetti straps
Absolutely NO tummies showing

Loose fitting sweatpants (for first time students)
Uniform (for students who have attended class longer than 2 weeks and are committed to coming to class)
Must be barefoot
*Uniforms are available for purchase at the main office.
Program Schedule
Program
Class
Age
Days & Times
Martial Arts
Lil Ninjas
3 – 5
Thursday: 3:00-4:00pm
Martial Arts
Beginning
4 – 11
Monday: 4:00-5:00pm
Tuesday: 4:00-5:00pm
Wednesday: 4:00-5:00pm
Martial Arts
Beginning
4 – 70
Monday: 5:00-6:00pm
Monday: 6:00-7:00pm
Tuesday: 5:00-6:00pm
Tuesday: 6:00-7:00pm
Wednesday: 5:00-6:00pm
Wednesday: 6:00-7:00pm
Thursday: 5:00-6:00pm
Thursday: 6:00-7:00pm
Saturday: 10:00-11:00am
Saturday: 12:00-1:00pm
Martial Arts
Intermediate & Advanced
12 – 70
Tuesday: 7:00-8:00pm
Thursday: 7:00-8:00pm
Saturday: 9:00-10:00am
Martial Arts
Black Belt *Permission
12 – 70
Monday: 7:00-8:00pm
Wednesday: 7:00-8:00pm
Martial Arts
Sparring
4 – 70
Friday: 2:00-3:00pm
Friday: 3:00-4:00pm
Friday: 4:00-5:00pm
Friday: 5:00-6:00pm
Saturday: 11:00am-12:00pm
Upcoming Events
There are currently no events

I love my class at BTB and get excited every single time I get to participate. I call it my Karate class.

Martial Arts Student
Staff Training
We strive to prepare our staff to effectively work with and teach children of all abilities to be in a class with other students. All staff are required to attend workshops where they:
Trained in an ability awareness class with co-founder, Deby Hergenrader
Familiarized with ASD
Learn how to use PECs, a structured schedule, social stories, and the Timed Timer
Co-teach spectrum classes with a trained staff member
Thank you to our MAJOR sponsors