Aerial Silks
Play / Pause Video Background
At Break the Barriers, we pride ourselves in the quality of our fully integrated aerial silks program.
Aerial silks, first made famous by Cirque du Soleil, is a performance art where aerialists are suspended in the air by fabrics. By climbing and wrapping the fabrics around their bodies, performers are able to drop, swing, and spiral into various poses. Aerial practice improves flexibility, core and upper body strength, and provides a well-rounded work-out regime for people of all abilities. If you have questions about the Aerial Silks program, please contact us!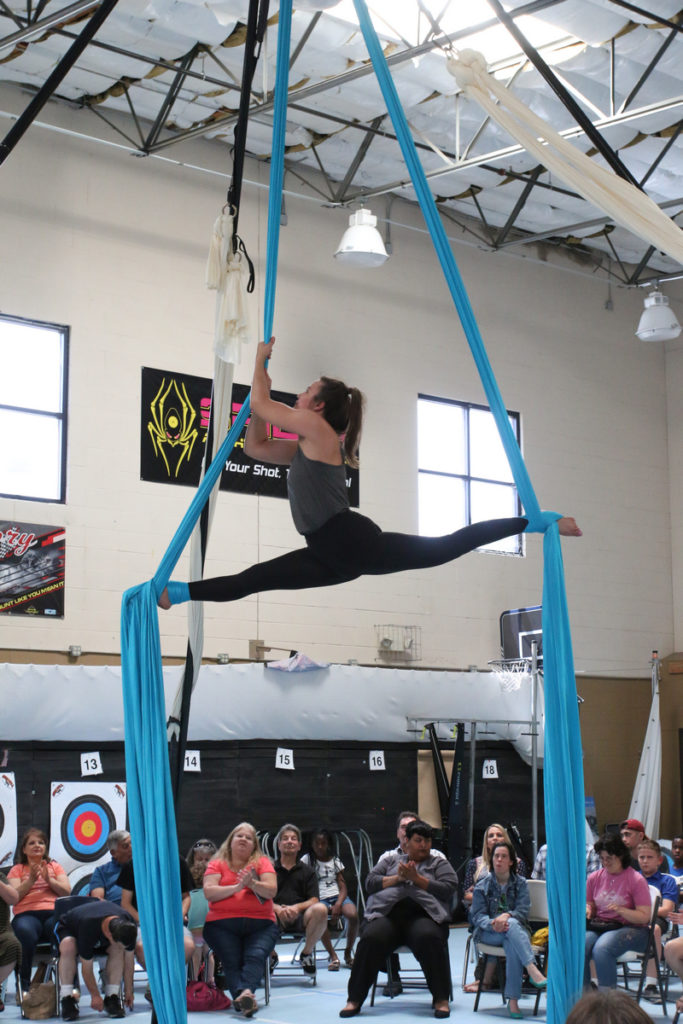 Program Details
Fees are due at the time of registration. All fees are non refundable and no credit can be given. New students are required to do an introductory class before they can register.
Monday (9 weeks): $191.25
Tuesday (9 weeks): $191.25
Wednesday (9 weeks): $191.25
Thursday (9 weeks): $191.25
To participate in our programs, first check with our office staff for class availability by calling (559) 432-6292, then fill out the Child Liability Waiver (for students under 18yrs) or the Adult Liability Waiver (for students 18yrs+). Once you have submitted the form, contact the office to secure a space in class. Aerial classes must have 3 students enrolled to open. All new students must take an introductory class before registering.
Doctor's Releases
Sometimes a doctor's release is required to participate if a student has specific physical or medical conditions such as (but not limited to) heart conditions, epilepsy, or bone and joint issues. Please contact us if you have questions about specific medical conditions.
Classes are broken down by age group, not ability level. We want students to experience the magic in the mixture of all abilities working and learning together. Those who quickly master their skills progress to the next level; whereas students who need more time or adaptive equipment receive the necessary attention required to master their skills. Our aerial classes focus on making aerial fabrics safe and accessible for all students.
To ensure a successful experience for all students at Break the Barriers, a student may be transferred to a class that is more beneficial to them at the discretion of the Director.
Aerial Silks
Aerial silks is a performance art where aerialists are suspended in the air by fabrics. By climbing and wrapping the fabrics around their bodies, performers are able to drop, swing, and spiral into various poses. Aerial practice improves flexibility, core and upper body strength, and provides a well-rounded work-out regime for people of all abilities.
Therapeutic Hammock
This "beginner-friendly" class offers a gentle introduction to the open-hammock while allowing students to enjoy the benefits of spine compression and pressure that the fabric offers. Increased mobility and strength will be a natural result with this class as students stretch in the hammock to create beautiful shapes. Students will also have an opportunity to connect poses and create choreography in a warm and welcoming environment.
Beginning Sling/Hammock
The Aerial Sling is a great way for future "Sky Dancers" to familiarize themselves with all Aerial apparatus' (such as Silks, Lyra, and Trapeze). In this class, students will gain strength, endurance, and flexibility; learn leg and thigh roll ups, knee clamps, and fun poses in the sling loop as well as the open hammock; and experiment with transitions and choreography. Brave and bold students will also learn drop progressions and climbs in the fabric.
Aerial Circus Basics
Learn to fly, flip, balance, and perform like a circus acrobat in this dynamic new class! Every week will be a new adventure as we explore different aerial apparatuses and theatrical exercises to help get in touch with our inner circus artist. Students will learn sequences in Hammock, Silks, and Hoop, while building strength, endurance, poise, and confidence.
1. In training we require students to master basic skills before attempting skills that require more strength, endurance, or are suspended higher off the ground. Students are encouraged not to practice skills beyond their level.
2. Students are advanced to more difficult skills by showing mastery in beginning techniques. Mastery in a skill includes strength, control, and proper body position with execution on both the left and right side.
3. Students must work at the specified heights given to them by their certified instructor for their safety. The program starts low to ground level while students' bodies and minds are grasping the new movement. Students will be allowed to work suspended higher off the ground once they can execute the skills multiple times over at a lower height.
4. Students, regardless of their level of training, are never to give instruction to other students or anyone else at any time unless they are a certified, Break the Barriers' aerial instructor hired to teach the class. In addition only BTB trained staff can spot students while attempting skills.
5. Students need approval from their certified instructor before attempting any skill that they have learned outside of Break the Barriers.
6. Students are not permitted to practice learned skills from the Internet. If a student sees a skill on the internet that they have interest in learning they can send the video to their instructor and request them to teach the skill at some point during their class. The instructor will also decide if the skill is at an appropriate level to teach during that class.
7. Break the Barriers requires general respect for all teachers and students.
8. Practicing aerial without supervision is not allowed. At least two people should be present on the floor, one being a certified instructor. Even instructors should not practice without a buddy present.
9. Students should cross train their bodies to promote safe learning, increase mobility, and strength. Please see our Aerial Dance Workout Routine if you are not cross-training in an exercise class.
10. Warm up before each aerial class to avoid injury.
11. It takes energy to go up and down the silks. If you only have energy to go up then don't attempt the skill at all.
12. A safety crash mat should be underneath all students, regardless of their level of ability while practicing in class.
13. All medical releases need to be approved by the Executive Director
Female Students
Shorts are not permitted. Leggings should be tight and reach the middle of your shin. This is recommended to protect your skin from fabric burns.
Do not wear loose fitting shirts or pants, as they will get caught in the silks.
A leotard or a well-fitting t-shirt that is tucked into the leggings is recommended so that when you go upside-down, no unnecessary skin will show. Break the Barriers has a no tummies, no cleavage, no spaghetti strap policy.
Leotards and shirts with sleeves are recommended to protect your arms from fabric burns.
Absolutely no jewelry allowed (no rings of any kind, no earrings, no necklaces, watches, bracelets, etc.) This is for your safety and also to protect the fabric from getting snagged.
No socks or shoes allowed.
Hair should be tied back securely in a bun or ponytail. For short hair, clip it back as best you can.
Male students
Please choose an exercise pant that is not too loose. Basketball shorts are not recommended as they are too baggy and will get caught in the fabric.
All Break the Barriers' aerial classes are taught by our certified aerial instructor, Jessica White. Jessica has her level one and two certification in silks from Aerial Physique's teacher training program. Aerial Physique's teacher training program is accredited through the American Circus Educators (ACE).
Program Schedule
Program
Class
Age
Days & Times
Aerial Silks (January 3rd – March 9th)
Beginning Sling
8 – 70
Tuesday: 4:00-5:15pm (Coach Jessica)
Aerial Silks (January 3rd – March 9th)
Hoop
8 – 70
Wednesday: 5:30-6:45pm (Coach Amy)
Aerial Silks (January 3rd – March 9th)
Beginning 1 Silks
8 – 70
Monday: 5:30-6:45pm (Coach Jessica)
Thursday: 4:00-5:15pm (Coach Jessica)
Aerial Silks (January 3rd – March 9th)
Beginning 2 Silks *Permission
8 – 70
Wednesday: 4:00-5:15pm (Coach Jessica)
Thursday: 5:30-6:45pm (Coach Jessica)

Aerial Silks (January 3rd – March 9th)
Intermediate Silks
8 – 70
Tuesday: 5:30-6:45pm (Coach Jessica)
Aerial Silks (January 3rd – March 9th)
Advanced Silks
8 – 70
Wednesday: 6:45-8:00pm (Coach Amy)
Upcoming Events
There are currently no events

I've been diagnosed with Osteoporosis so I need to do weight-bearing activities. That's the reason I started aerial and I love it!

-Aerial Student
Staff Training
We strive to prepare our staff to effectively work with and teach children of all abilities to be in a class with other students. All staff are required to attend workshops where they:
Trained in an ability awareness class with co-founder, Deby Hergenrader
Familiarized with ASD
Learn how to use PECs, a structured schedule, social stories, and the Timed Timer
Co-teach spectrum classes with a trained staff member
Thank you to our MAJOR sponsors